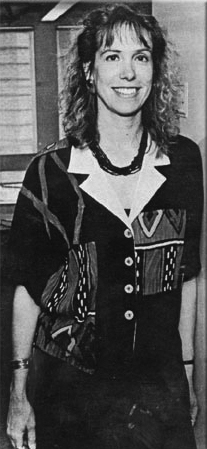 About Jessa Piaia

Jessa Piaia's character portrayals celebrate women of the past whose diverse lives span three centuries. In her poignant and inspiring dramatic vignettes, Jessa reveals the accomplishments, struggles, and contributions of these women to American history. Jessa depicts each woman's life set against the historic events and issues of the day.

Some of those portrayed--Amelia Earhart, Clara Barton, and Susan B. Anthony--achieved a place of prominence in history. Others, like Rachel Revere, Susanna Rowson, and Mary Dyer, may be less famliar to present-day audiences, but their lives deserve the attention Jessa gives them. Famous or not, all of these women can serve as role models for us today.

Jessa's performances take her to educational institutions, museums, public libraries, historical societies, worship services, women's groups and organizations. Past performance sites include the Museum of Our National Heritage, The Wenham Museum, Bentley College, Curry College, Simmons College, public schools throughout New England, National Parks in Boston, Charlestown, Quincy and Salem, SPNEA's Beauport Museum in Gloucester, and the Clara Barton Homestead Museum in North Oxford, Massachusetts.

Awards
- Massachusetts Foundation for Humanities Mini-Grant (3-site tour), '97
- Massachusetts Foundation for Humanities grant (11-site statewide tour), '94
- Boston Arts Lottery Grant Funding, '92 to present
- Cambridge Arts Lottery Grant for Research and Development, '87
- Boston Arts Lottery Grant (research and development of Susanna Rowson), '85

Background
Jessa Piaia studied performance at London's Oval House Theatre and graduated from the University of Massachusetts in Boston. Her first dramatic portrayal--of Amelia Earhart--was staged at the International Women's Day Festival in Milwaukee in '78.
Jessa currently works at Harvard University. She conducts most of her historical research at the Schlesinger Library at Radcliffe Institute which specializes in the history of women in America.